September 16, 2019
Meet Dennis Kleinman of A World Voice
THE NARRATOR OF THE ZEBRA AFFAIRE AUDIOBOOK
Today we'd like to introduce you to Dennis Kleinman.
Dennis, please share your story with us. How did you get to where you are today?
I grew up in Cape Town, South Africa and emigrated to the US in 1980 after completing a Bachelor of Arts degree at the University of Cape Town. I was very fortunate to have been raised in a home filled with art and culture. My mother was an accomplished abstract artist well recognized in the South African art world and thus was exposed to many artists early in my life. I was also very close with my aunt who was a stage and film actress in London, and these influences shaped my creative interests. But, what also impacted my love of voice was that during my South African youth, there was no television in the country and thus radio was our entertainment. Serialized radio theatre, game shows, etc. were all very important and created a very fertile foundation for the development of imagination. I also had a natural talent to speak in different accents and imitate personalities and started creating my own "radio shows" as a young child, generally for family and friends.
After completing my degree and arriving in Los Angeles in the '80s, I emigrated because I did not subscribe to the racial policies of the country and did not want to support the regime, I was not sure what to do. I had to find my feet after coming from a small community in comparison. to the vastness of LA and therefore started working in various industries to "find out" what I wanted to do. I even had a small restaurant for 18 months in the Valley and then got involved in sales in the construction industry. But I was always being drawn back to the arts and living a creative life.
At the age of 19, I had attended a party in Cape Town and was told by a young producer that I met that I had a wonderful voice and should explore a career in radio. I never did, but his comment never left me. So, after working in an area that I never felt really connected with, I began taking acting classes and always seemed drawn back to voice. I cut my first demo tape in the mid-'90s and slowly started booking small projects. I continued building my skills and expanding my work. I also found that I was interested in audiobooks and began working on books through ACX. Having spent a lot of time in London in my youth, my accent incorporates a "non-regional" British accent tinged with South African, which gives me a "global" sound, hence my brand – A World Voice. I have worked with companies all over the world in areas of corporate and eLearning narration, as well as commercials and documentaries and currently have almost 50 audiobooks on Audible. I also perform in video games and commercials, have worked on many regional campaigns for luxury cars and have recently been dubbing foreign films and series' into English. I also am able to emulate the voice of Winston Churchill and David Attenborough and have worked on projects using those approaches for many corporate projects, as well as promos and spoofs for some of the cable networks.
I now work fulltime as a voice actor in Sherman Oaks. I have a professional home studio and continue to build and expand my repertoire of production companies that I work for in audiobook and other genres of voice acting.
Overall, has it been relatively smooth? If not, what were some of the struggles along the way?
Initially, I was concerned that my accent might limit my opportunities in the American market, but have found that although it does limit some projects, it actually has enhanced my opportunities in many other areas. Certainly, there is a lot of opportunity for a global voice in the eLearning and Audiobook markets, as well as the high-end luxury automobile market and corporate narration.
Please tell us about A World Voice.
I specialize in all forms of voice acting which includes many various genre's. What sets me apart is that firstly, the resonance and tone of my voice has a rich storyteller quality to it. Secondly, my accent certainly stands me apart and tends to attract high-end projects, whether commercials or corporate profiles. Since my accent is broad in the sense that it is non-regional, it opens me up to a wide variety of opportunities worldwide. Voice over work is like a large pizza with lots of slices – some larger than others, so, I tend to do quite a lot of long-form narration such as eLearning and Audiobooks, but also work on video games, documentaries, and commercials.
I take pride in the fact that I am very client-oriented. I engage well with my clients and like to remain involved on many different levels. There have been occasions when I will suggest alternate script changes, especially with foreign language clients. To the best of my ability, I offer fast turnaround on all projects that I am commissioned to do. I am friendly and extremely easy to work with, and also take direction very well. I believe that all of these factors make all of my interactions seamless in the execution of each project I am involved with.
I am also very honored to be a four-time Voice Arts Awards nominee for work on various audiobooks, including a book that is very close to my heart entitled, The Zebra Affaire about an interracial love relationship set in the heart of the apartheid years in South Africa – 1976 Johannesburg around the time of the Soweto riots. The book is written by Mark Fine, originally from Johannesburg and during the narrative of the story, he also gives some fascinating historical facts about the regime and its policies. Another book that was also recognized was about the heroic age of the early Antarctic explorers titled "When Your Life depends On It", written by Brad Borkan and David Hirzel. They compared the events and difficulties these men went through bringing it all back home to how we in our modern day deal with our adversities.
If you had to go back in time and start over, would you have done anything differently?
If I had to start over, I think I would have dived straight into acting from the beginning and not spent time looking at other industries. Not to say however that it didn't serve me well – it did, but my passion truly exists in the arts and specifically in voice acting.
Contact Info:
---
August 4, 2019
Carte Blanche Recounts the Strijdom Square Massacre
by SAPeople Contributor
Here's the line-up of hot South African topics that the Carte Blanche team are investigating this Sunday 4 August (and available for South Africans abroad in most countries to stream from Tuesday 6 August).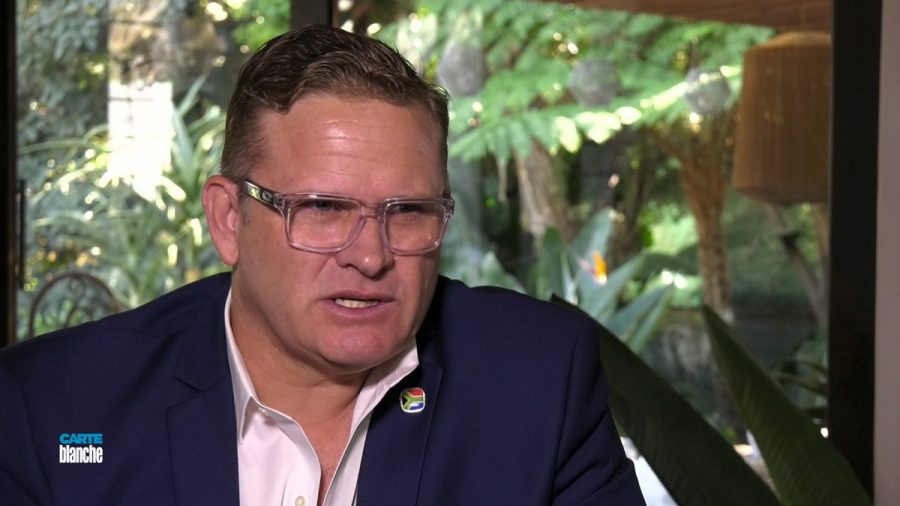 Former uMkhonto weSizwe and apartheid police spy Bradley Steyn is still haunted by the Strijdom Square massacre he witnessed over thirty years ago in 1988 when he was just a teenager.
Seventeen at the time, Steyn came face-to-face with the Wit Wolf, Barend Strydom, who killed eight people in cold blood, and injured sixteen more.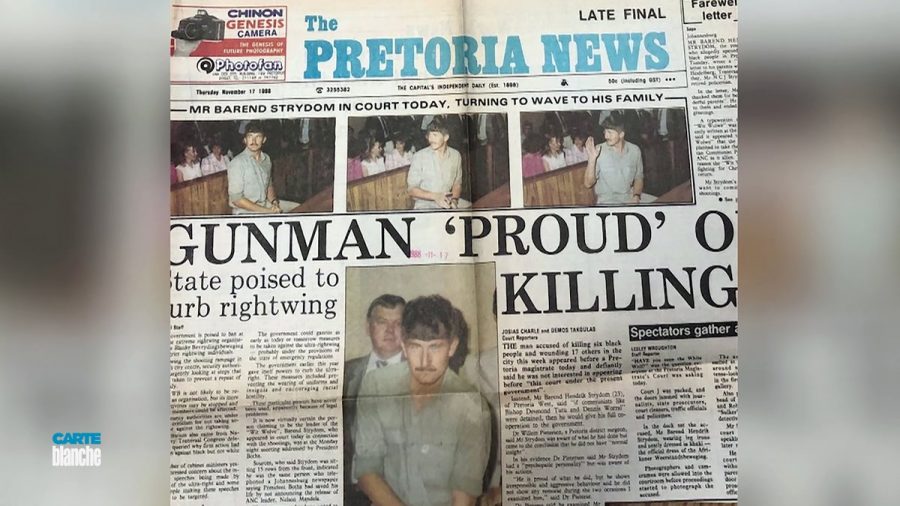 For Steyn, it sparked a career in intelligence and a mission that continued to this day, to honour those who died on that fateful day.
Steyn – who now lives between SA and the USA – told SAPeople he has just finished a two month book tour of SA promoting his SA bestseller (co-written with Mark Fine) 'Undercover With Mandela's Spies, the Story of the Boy who Crossed the Square'.
The book uncovers "the journey my life has taken since I witnessed the 1988 Massacre", he says. (The book is available in Sub Saharan African at EXCLUSIVE BOOKS and Australasia via Amazon.)
Carte Blanche interviews Steyn and recounts the events of the latter 1980s that painted a sombre picture of where racism and hate could lead the country. (Producer: Carol Albertyn Christie; Presenter: Devi Sankaree Govender)
---
May 2019
PRESS RELEASE by Book Publisher, Jacana Media
The Double Agent for Freedom: Inside Mandela's Spy Unit with Bradley Steyn
"... we had just seconds before the shit hit the fan. Our target was prostrate on the floor with his eyes closed, so I led the way out through the collapsed wall to give Neil cover as he carried the dazed 'Kumalo' over his shoulder. A jumpy teen armed with a panga stood alone in the dark waiting to ambush us. He must have heard 'Mrs Kumalo's' screams. I drew my cz-75 and barked, 'fuck off!' I was relieved when he dropped his weapon and fled. No one had to die. But we were running out of time."
Bradley Steyn's life is a perfect example of how fact can be stranger than fiction, as Undercover with Mandela's Spies written by Bradley Steyn and Mark Fine shows. The memoir charts Steyn's life – from the deeply traumatic experience of witnessing the Strijdom Square massacre in 1988 that leaves him with a severe case of PTSD, to being recruited by the underground ANC's Department of Intelligence and Security (DIS). Written with sweltering clarity, Steyn details the dark and dangerous world of espionage, guns and the extremes both the apartheid government and the ANC went to to achieve their goals.
This astonishing true-life thriller provides a thorough account of one man's explosive experiences during a highly unstable period in South Africa's history and reveals for the first time some of the dirty secrets of a dirty war. Beset with all the makings of a spy blockbuster, Steyn's every day with the Security Branch included surveillance, psychoactive drugs to weaken targets, war tactics, shootings and death. While navigating this dangerous world, Steyn was also battling PTSD and one can only imagine how the violent nature of this covert world impacted him.
He ends up being recruited by MK and used to infiltrate the crazed right-wing whose mission is to de-stabilise a South Africa on the brink of peace. With these forces pushing the nation toward a bloody race war, will his time run out before they discover he is working for Mandela's spies? Undercover with Mandela's Spies captures the horror of this war for freedom and the resilience of the men and women who fought for our liberation. With the Annie Costner documentary of Steyn's unbelievable story set for release next year, and as we examine the results of this, our sixth democratic election, this book shows just how close to civil war we were.
ABOUT THE AUTHORS
Bradley Steyn is a former government contractor, specialising in risk mitigation, operational support, B2B and B2C within the US national security and defence arenas. Steyn now lives in California. He works as a security consultant in Beverley Hills.
Mark Fine is a South African born novelist specialising in historical fiction, social injustice and wildlife conservation. His critically acclaimed apartheid romance novel, The Zebra Affaire audibook on Audible has been nominated for a Voice Arts Award - Fiction.
---
November 2018
Dealing with Wit Wolf Massacre | Subject of my new book
This South African newspaper article is an insight into my forthcoming book, UNDERCOVER WITH MANDELA'S SPIES. It tells of the torrid experience of my co-author Brad Steyn as a 17 year old when he stumbled into an active shooter, spree killing on 15 November 1988.
A white supremacist, called the White Wolf, was gunning down his compatriots in a city square because of the color of their skin! 8 innocent black South Africans died and 16 injured. Brad's emotional downward spiral and his subsequent undercover, espionage activities during the Liberation Struggle is the heart of the story. The book's working title is UNDERCOVER WITH MANDELA'S SPIES.
This article was originally published in the WEEKEND ARGUS [SUNDAY EDITION] October 31, 2018.
https://pressreader.com/@Mark_Fine.1/csb_RfHUtttFk7t_wtjNolI5g59b5QQfriXKPoB9Q2C-cL-r6EJ9o4BHcoO30Wc-FDU4
---
October 2018

South African Expat's Audiobook Nominated for Top US Award
By SAPeople
Oct 10, 2018

The audiobook for a story set in South Africa – 'The Zebra Affaire' – has been nominated for a prestigious Voice Arts Award, which is the equivalent of the voice over and narration industries' Grammy Awards.

The story is written by Californian-based South African expat Mark Fine from Johannesburg, and read by Capetonian and fellow SA expat Dennis Kleinman (who lives just an hour away in LA). 'The Zebra Affaire' – which features a love affair between a white woman and black man during the Apartheid era in SA – has the voices of all its characters read superbly by Kleinman… earning the book a Best Voiceover nomination in the 'Audiobook Narration – Fiction' category.

Fine said: "SO EXCITED! … South African Dennis Kleinman's multi-accented voicings of all the characters within my novel was brilliant, stellar! Delighted his peers in Los Angeles have acknowledged his powerful performance… Congratulations Dennis Kleinman… and THANK YOU!"
​
The Awards will be held on 18 November 2018 on the Warner Bros with 'Avatar' and 'Aliens' actress Sigourney Weaver hosting. #HoldingThumbs!